We offer trial sizes available for purchase, not free samples.
Bioss offers 20µl trial sizes for over 1,500 of our antibodies. Only unconjugated antibodies are available in a trial size and not all of our antibodies have a trial size option.
The trial size is displayed on the product page an example of this is the antibody bs-2527R as seen below the 20µl size option is presented next to the standard 100µl full-size option. The price for the 20µl trial size is $89.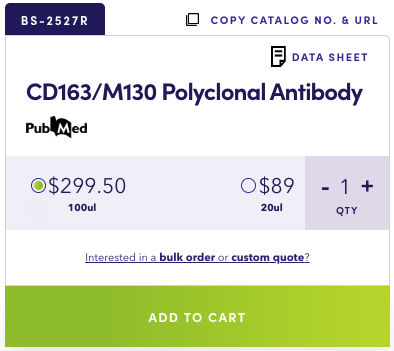 For customers within the US, you can take advantage of our Pennybody Program to order one 20µl trial size for $0.01 + shipping. This promotion can be used once for each person to help test the antibody.
If the 20µl option is not seen on the product page then there is not currently a trial size offered for that item. If you would like to purchase and test the trial size you can contact one of our team members through the chat, phone (800-501-7654), or email (sales@biossusa.com) and we would be happy to check to see if a trial size can be activated for that item.
We strive to give the best service possible and be responsive to your needs so please don't hesitate to let us know if there is anything we can do to assist you.